Talent Acquisition
​
Finding the right talent for your business.

Finitas partner with you to fully understand your resourcing requirements and create bespoke talent acquisition strategies specifically designed to best meet the needs of your business. Our consultants are specialists in their market and are ideally placed to advise you on your recruitment needs and solutions.
Holding one of the largest candidate databases in the market, we have invested heavily in market mapping, applicant tracking and job board advertising to ensure that we have a market reach second to none. We actively run our own range of highly successful meetups to ensure we are ahead of the game, understand market trends and are meeting with the most engaged and skilled talent.
We build partnerships with our clients and get to know your culture, teams and individual needs to find you not only the top talent in the market but the best fit for your company.


Working with Finitas ensures...
Detailed understanding of technical and cultural requirements

Thorough interview of all applicants (including video interviewingwhere appropriate)

Detailed checks of prospective candidates

Thorough 360° referencing process

Ongoing support throughout assignment / post placement

We see our role as one where we not only listen to our customers but also offer advice and guidance on how hiring processes can be streamlined and enhanced to boost talent attraction campaigns.
​

Attraction & Retention
​Helping you attract & retain top industry talent.
​
At Finitas, we make it a rule to always work in close partnership with our clients. By working closely with you and getting to know your culture, we not only find you the best talent in the market but make you their number one choice and a company they commit to.
​There are a number of ways we help you do this:
​
​​Employer Brand
By getting to know your teams, roles and ethos we can help evolve your employer brand to attract the top talent in your industry.
​Your Employee Value Proposition (EVP) is what sets you apart from the competition and by working with Finitas we can assist in developing and packaging your proposition to bring the candidates to you.
Get in touch to find out more on our EVP campaigns.
​
​
On-Boarding & Aftercare
​We know how important getting the right talent into your organisation is and once you've got them you want to keep them!
As your talent partner, our Project Partnership approach will also ensure all new starters receive clear communications during on-boarding and throughout their assignments. Retaining the IP and experience in your workforce is crucial and therefore Finitas will work as an extension of your team to ensure the highest retention in your talent, keeping your expertise and competitive edge.
Get in touch to find out more on how Finitas can work with you to attract and retain your future workforce.
​
Project Partnership
Partnerships to deliver the best solutions for you.
​
Finitas takes an agile approach to solving our clients talent projects. We partner with our clients to offer a variety of solutions including;

Exclusive
Finitas will work closely with you as your sole supplier for particular roles you are looking to fill with the top industry talent. We have the time to do a deep dive into the market for you, making sure you and the candidates get the very best experience.


Retained
Retained Search allows you to control your spend and ensures that one agency is accountable for the delivery of a body of work. ​We provide you with a detailed structure and timelines for deliverables.
​The additional resource we are able to provide goes into candidate attraction, branding and the candidate interview / offer experience.


Statement of Work
You've got a project to deliver and you just want it to run smoothly, on schedule and on budget. Not only can we provide you with the people power you need, our consultants will also guide your resource management or statement of work tasks.


MSP
​As your Managed Service Provider (MSP), Finitas removes all of your tax risk and liability, and will achieve significant efficiencies from a contractual and compliance perspective whilst supplying you with the best talent in the market as and when you need it.
Finitas MSP solution promises;
​removal of risk & liability as fee payer

negotiation & management of IR35 determinations with limitless use of our determination tool

contractor communication management, care and on-boarding

streamlined Timesheet and Invoice process

compliance and consolidation of contract supply chain

management of external agencies terms, margins & non-solicitation
​
RPO
Working as an extension of your team, our bespoke Recruitment Process Outsourcing solution combines the latest technology and recruitment techniques to deliver a full, agile, creative solution tailored around your specific needs.
Finitas becomes your talent partner and for all your recruitment, freeing you up to do your day job and providing you with;
​a bench of top talent ready for projects​

the ability to scale with confidence

tailored recruitment solutions​

agile approach to candidate scale-up

exclusive talent
​
​Our client solutions are tailored to your requirements and adapt as you grow. We partner with our clients working as part of their team to achieve your targets, support your infrastructure and get you the best talent at the right time.
Get in touch to find out how we can help with your resourcing challenges.
​
IR35
IR35 - Our Solution
​
There has been much talk over the recent months concerning the further changes to IR35 affecting engagements with private sector organisations. We work in partnership with our clients and having previously guided countless organisations through the 2017 Public Sector IR35 reforms, we are well-positioned to navigate the journey with you.
Finitas has partnered with Kingsbridge to provide an award-winning, comprehensive IR35 solution that manages the entire process, from status assessment to process consultation, so you can confidently and compliantly maintain your flexible workforce within the parameters of IR35.
Whilst some organisations are choosing to not engage limited company contractors, this is likely to result in them missing out on top talent. Our solution allows our clients to have access to the best people in the market whilst remaining 100% compliant and resulting in a genuine competitive advantage.
Our IR35 Status Tool takes a best-of-both approach, allying a custom-designed automated process, developed by Andy Vessey, a leading IR35 specialist. This is the only IR35 status provider on the market to offer a hybrid solution, and we firmly believe that it's the best one-stop-shop to meet all your IR35 business requirements.
​
How this tool will help:
Fast, efficient and accurate IR35 assessments based on case law.

Removal of your tax liability.

IR35 specialists on-hand to assess indeterminate status results.

The ability to request a manual review.

Interaction with the whole supply chain.

Your own access to the tool – browser-based and mobile.

Market-leading, Zurich underwritten IR35 insurance policy which means all outside determinations are de-risked.

Any outside determinations challenged by HMRC will be defended by Andy Vessey.

​
​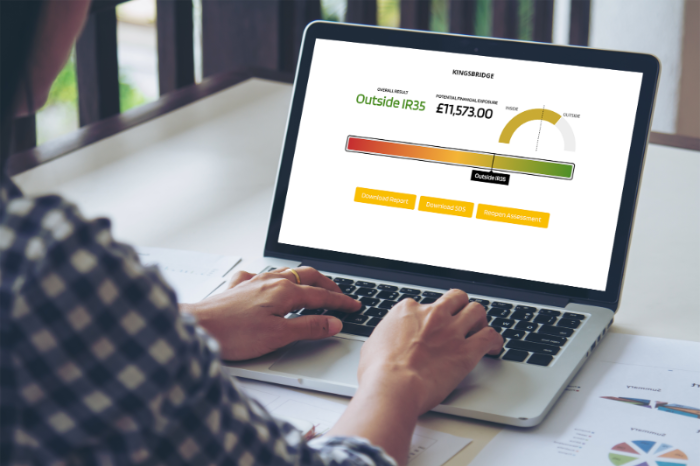 ​
Finitas have unparalleled IR35 experience as we have been through the process before with 100's of contractors in the public sector. Our 2017 transition was successful and smooth, but we now have even better processes and our market-leading IR35 tool.
We will help you understand the legislation by offering consultative support throughout and by hosting IR35 workshops.This will prevent disruption to your projects and help you maintain a compliant workforce.
We are working closely with clients and candidates that may be affected by these changes and will ensure that we keep you informed of any decisions that affect you.

Finterview

​
Delivering more than just a CV.
​
We know that when recruiting you can often be overrun with CV's and spend valuable time interviewing candidates that aren't the right fit for your business. Knowing that you expect more than just a CV from your trusted recruitment partner, we have invested in Finterview to make the process quicker and easier for you.
Finterview is a comprehensive, innovative video recruitment platform. The web-based suite provides the ability to cut down recruitment time and costs for our clients. Finterview allows us to showcase our candidates through the creation of high-quality videos which run alongside their CV. These videos are client-tailored to ensure the most important and relevant questions are the ones being answered and are bookmarked allowing you to rewatch / skip to specific questions.
We will schedule and conduct the interview, creating a uniquely high-quality shortlist, specific to the position. Our clients can subsequently select the best culture fit candidates for a face-to-face interview with confidence, eliminating the need for phone interviews from the process.
​
Benefits Include;
High Quality Videos running alongside the candidates CV.

Bookmarked questions allowing you to re-watch / skip to specific points.

Tailored interviews based on your choice of questions.

Easy sharing of candidate videos with colleagues / managers.

Reduce the average time to hire from 45 days to 24 days.

Save 30% costs through the reduction of interviews.

Reduce candidates' travel times and costs by 67%.
​
​
Contact Us
If you are an employer seeking the best candidate to fill a position, we can help
Contact